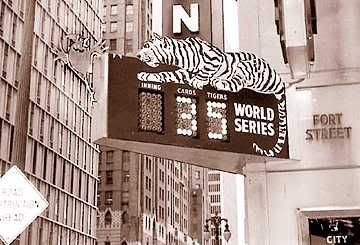 Details from
Bilfer
-
On Tuesday, the first 10,000 fans in attendance will receive a commemorative 1968 Tigers 40th Anniversary replica road jersey, courtesy of FSN Detroit and the Detroit Medical Center.

Fans will have an opportunity to meet their favorite 1968 Tigers, as members of the team will be signing autographs on the main concourse behind sections 125, 140 and 151 as well as the 300 level concourse behind section 324 from 5:00-6:00 p.m. Players and coaches scheduled to attend include: Jim Price, Gates Brown, Willie Horton, Al Kaline, Wayne Comer, Bill Freehan, John Hiller, Mickey Lolich, Tom Matchick, Dick McAuliffe, Denny McLain, Daryl Patterson, Mickey Stanley, Dick Tracewski, Jon Warden, Don Wert, Hal Naragon and Bill Behm.

The tribute will continue with a special "Year of the Tiger 1968" video feature on the scoreboard. The video will be followed by an on-field, pre-game ceremony to recognize the members of the 1968 team. In addition to all of the pre-game festivities, one member of the 1968 team will throw the ceremonial first pitch.
SO VERY MAD I AM NOT BACK HOME! Because this sounds like massive fun.
Denny McLain is not even in jail for this one.
Bet McCarver won't be in attendance. Poor Tim - no commemorative jersey for you.

homesick
Sock it to 'em, Tigers

work